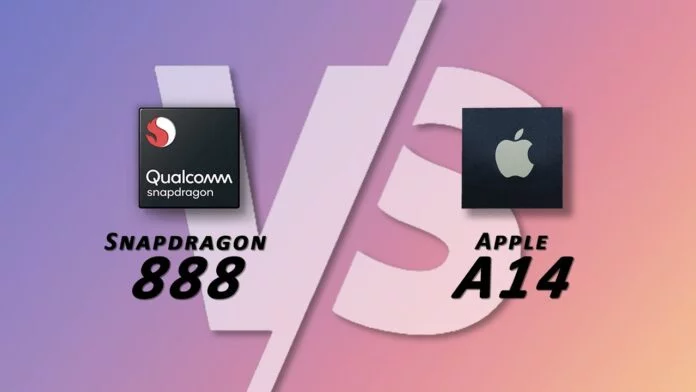 In this world of competition, everything is moving like an athlete. Recently, Snapdragon has launched Snapdragon 888 in the competition with Apple A14 bionic. As we know Apple is quite powerful in terms of optimizations and enhancements. This is our take on Apple Snapdragon 888 VS A14 Bionic Chipset.
Follow @gearstoday on Instagram for regular updates.
View this post on Instagram
In other words, Qualcomm Snapdragon 888 easily beats the Apple A14 Bionic chipset if you compare on paper. Snapdragon 888 comes with a more powerful modem which can easily give faster speeds. As Apple has released its A14 bionic chipset with Qualcomm's X55 modem.
We will be sharing our research analysis on Apple A14 Bionic vs Snapdragon 888 comparison with you. The new iPhones come with the new improved processor chip. Apple's A14 Bionic chipset world's fastest mobile chip right now. The only reason for discussing this topic is we also want to know how Snapdragon is going to reach on A14 bionic.
The A14 Bionic is more likely equipped with the AI engine and advanced neural engine inside it. iPhone 12 has this chip inside it. On the other hand, the Snapdragon 888 is going to be available in Poco F3 Pro, OnePlus 9, OnePlus 9 Pro, Oppo Find X3 and so on.
Snapdragon 888 VS A14 Bionic Specs Comparison:
Snapdragon 888
A14 Bionic
CPU
Kryo 680, Octa-core CPU
Hexa-core CPU
CPU Cores
1x 2.84GHz (Cortex-X1)
3x 2.4GHz (Cortex A78)
4x 1.8GHz (Cortex A55)
2x 3GHz (Firestorm)
4x 1.8GHz (Icestorm)
Process Technology
Samsung's 5nm
TSMC's 5nm
GPU
Adreno 660
Apple-designed four-core GPU
Machine Learning and AI
6th-gen AI accelerator featuring Hexagon 780 DSP
16-core Neural Engine
ISP
Spectra 580
Apple-designed Image Signal Processor
Camera Capability
Up to 200 MP; 28 MP triple camera with Zero
Shutter Lag; Triple 14-bit ISPs
N/A
Video Capability
8K @ 30 FPS, 4K HDR Dolby @ 60FPS, 720p @ 960FPS
4K HDR Dolby @ 60FPS
Charging
Quick Charge 5 (100W+)
Fast Charging
Modem
Qualcomm X60 5G Modem 7.5 Gbps Peak Download 3 Gbps Peak Upload
Qualcomm X55 5G Modem 7.5 Gbps Peak Download 3 Gbps Peak Upload
WiFi Support
Wi-Fi 6E-ready
Wi-Fi 6-ready
Bluetooth
Bluetooth 5.2
Bluetooth 5.0
Apple A14 Bionic features:
The A14 Bionic is built on a 5nm processor and has Hexa-CPU cores, 4-GPU cores, and a 16-core neural engine.
The A14 Bionic has 11.8 billion transistors.
The CPU's six cores are broken into four high-efficiency cores and two high-performance cores. Apple claimed the offering's 40% faster than the previous generation and that graphics, via four cores, are 30% faster.
Apple's neural engine has now 16 cores for 11 trillion operations per second.
A14 Bionic supports new WIFI 6 and updated technologies.
Recommended: Apple A14 Bionic VS Snapdragon 865 Plus Comparison in Details
Snapdragon 888 Features:
The GPU in Snapdragon 888 comes with Adreno 660 which is used in Enhancing Gaming and GPU Performance.
Snapdragon 888 comes with Kryo 680 CPU. It will be based on the latest Arm v8 Cortex tech.
Because of the latest Cortex-X1 and Cortex-A78 cores performance in the Snapdragon 888 gets a huge uplift To work better faster.
Qualcomm is working on the 100w charging. Smartphone makers are working on 120w, 144w charging standards. And to support this change processor needs to get an upgrade.
The modem for Snapdragon is X60 with 5nm fabrication for great power efficiency.
Hardware and Performance: Snapdragon 888 vs A14 Bionic
A14 Bionic chip uses the new 5nm EUV fabrication from TSMC. This new fabrication provides 80% more logic density however, Snapdragon 888 uses a similar TSMC 5nm process. Recently on a new update about Qualcomm, we got to know they have ordered the fabrication from Samsung. So, According to the sources, Snapdragon 888 is based on the Samsung 5nm EUV process But it's not properly assured.
Snapdragon 888 promises better performance, superior experience and gaming experience than the Apple A14 bionic. New phones which will be equipped with Snapdragon 888 will be the OnePlus 9 series, Realme Ace, Mi 11 Pro etc.
A14 bionic and Snapdragon 888 comes with the latest 5nm manufacturing process. The best thing is Apple A14 Bionic is setup n Firestorm and Icestorm monikers. If we compare A14 Bionic to Snapdragon 888, Qualcomm's 888 is based on the shelf parts from the default Arm.
Snapdragon 888 VS A14 Bionic: AI Capabilities
Apple A14 features the 11TOPs of AI inferencing performance which is 83 percent more over the 6TOPs on Bionic A13. Snapdragon 888 comes with 26TOPs for AI which gives 73 percent increase. The Qualcomm Snapdragon 888 5G platform uses a 6th generation Qualcomm AI Engine.
Qualcomm Snapdragon 888 sports a newly re-engineered Qualcomm Hexagon processor and 2nd generation Qualcomm Sensing Hub for lower-power always-on AI processing.
Benchmark Scores Snapdragon 888 vs Apple A14 Bionic
Qualcomm Snapdragon 888 scores are whopping with 743894 points in AnTuTu v8 whereas Apple A14 scores are lower than this which's 680174. Whereas Qualcomm Snapdragon 888 Geekbench score is 3350 points for single-core and 13215 points for multi-core. On the other hand, the Apple A14 Bionic chipset Geekbench Score For Single Core is 1658 and for Multicore Score is 4612.
Different case scenarios of A14 VS 888 Benchmark Scores:
Based on multiples tests on the AnTuTu benchmark app, Apple A14 Bionic has a Geekbench score of 1,658 in single-core and on multi-core, its 3,930 scores. However, for Snapdragon 888 has a Geekbench score of single-core points is 4,759 on multi-core points is 14,915.
Snapdragon 888 VS A14 Bionic Comparison Results:
Based on current cases, we have seen that both of the chipset Apple A14 bionic and the Snapdragon 888 chipset scores almost the same in all manners. Although they are diff on the sheet, obviously we will see more practical samples with Snapdragon 888 in the upcoming Galaxy S21 and many more smartphones. But it is for sure that an amazing camera is coming on the way.